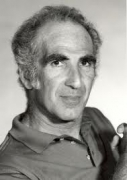 Awards
Guggenheim Fellow (1969)
About Jerome R. Mintz
Mintz was a prolific author and professor emeritus of Anthropology and Jewish studies at Indiana University.
Professor Mintz produced several films about tradition and change in Andalusia, Spain.
He was born in Brooklyn, New York, and was a graduate of Brooklyn College. He earned a master's degree from City University of New York (CUNY), and completed a Ph.D. while at Indiana University.
He died at his home in Bloomington, Indiana, at the age of 67.