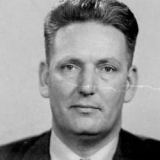 Awards
Fulbright Award (1959)

Chile
Guggenheim Fellow (1954)
About John B. Irwin
John Irwin joined the faculty at IU Bloomington as an associate professor of astronomy in 1948. He was appointed to the faculty of the Graduate School in 1949, was promoted to full professor in 1951, and was acting chairman of the Department of Astronomy from 1956 to 1957. He was a visiting professor at the University of California at Los Angeles in 1961, and resigned his position at IU in 1963.
Irwin earned both a B.Sc. in mechanical engineering (1933) and a Ph.D. in astronomy (1946) from the University of California, Berkeley. After receiving his Ph.D., he became an assistant professor at the University of Pennsylvania, a position he held from 1946 to 1948. After leaving IU in 1963, he was a staff associate at the Carnegie Institution of Washington from 1964 to 1967, a visiting resident professor at the Steward Observatory from 1967 to 1968, and an associate professor at the University of California at Los Angeles from 1968 to 1970. His last position before retirement was as an associate professor at Kean College in New Jersey in 1977.
Irwin was a member and active participant of the American Astronomical Society, the American Association for the Advancement of Science, and the International Astronomical Union. He was named a Guggenheim Fellow in astronomy and astrophysics in 1954, and a Fulbright Scholar to lecture at the University of Chile in 1959. Irwin also has the distinction of having the 3959 Irwin asteroid named for him. The asteroid was discovered on October 28, 1954, at the Goethe Link Observatory in Brooklyn, Indiana, by the Indiana Asteroid Program.
Irwin passed away on April 20, 1997, in Tucson, Arizona.