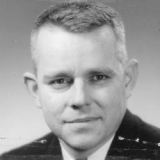 Awards
Guggenheim Fellow (1961)
About Leo F. Solt
Leo Solt joined the faculty at IU Bloomington in 1955 as assistant professor of history in the College of Arts and Sciences. He was appointed to the faculty of the Graduate School in 1957 and promoted to full professor in 1964. He was acting chairman of the Department of History from 1962 to 1963 before being named chairman in 1965. He was named acting chairman of the West European Studies Committee in 1967 and dean of the University Graduate School in 1978, a position he held until 1987. He retired from IU in May 1992 with the title of professor emeritus of history.
Solt obtained a B.A. from the Iowa State Teachers College (now University of Northern Iowa) in 1943. After serving in the Navy during World War II, as an officer on an aircraft carrier in the Pacific, he went to graduate school. He received an M.A. from Iowa State University (1948) and a Ph.D. in history from Columbia University (1955). He was an instructor at the University of Iowa and taught for three years at the University of Massachusetts before coming to IU in 1955.
The Journal of American History, the Organization of American Historians, and the American Historical Review were all brought to IU during Solt's tenure, a feat he was instrumental in bringing about. He was a member of the Midwest Conference on British Studies (president, 1968-1970) and the American Historical Association (vice president, 1975). He wrote numerous book reviews, scholarly articles, and books. He was the author of Saints in Arms, Puritanism and Democracy in Cromwell's Army (Stanford University Press, 1959) and Church and State in Early Modern England, 1509-1640 (Oxford University Press, 1990).
Solt passed away on April 18, 1994, in Bloomington, Indiana.