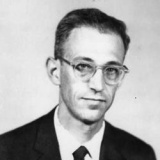 Awards
Guggenheim Fellow (1965)
About Martin Ridge
Martin Ridge joined the faculty at IU Bloomington in 1966 as a professor of history. During his 11 years at IU, he edited the Journal of American History and was appointed to the faculty of the Graduate School (1967). He resigned in 1977 and moved to the Huntington Library in San Marino, California, as the director of research, retiring in 1993 but continuing as a senior research associate. He also continued to teach as a faculty member at the California Institute of Technology (1980-1995).
Ridge obtained a B.A. in 1943 from Chicago Teachers College (now Chicago State) before serving three years in the U.S. Maritime Service. After the war, he returned to Northwestern University and received a Ph.D. in 1951. He began teaching at Westminster College (Pennsylvania) then moved to San Diego State College in 1955, where he would stay until his move to IU in 1966.
Ridge wrote numerous essays and articles, wrote or edited/co-edited 17 books, and served on more than a dozen journal editorial boards. He was a participating member of the Organization of American Historians, the Western History Organization (co-founder and president), the American Historical Association Pacific Coast Branch (president), the Historical Society of Southern California, and contributed to and supported the Western Association of Women Historians. He received a John Simon Guggenheim Memorial Foundation Fellowship in U.S. History in 1965 and a Senior Research Associateship at the Huntington Library in San Marino, California, in 1977-1978 and 1978-1979. He was elected to the American Antiquarian Society in 1982.
Ridge passed away on September 22, 2003, in Pasadena, California.