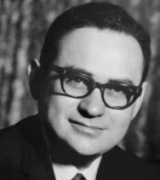 Awards
Guggenheim Fellow (1981)
Guggenheim Fellow (1970)
About Maurice Friedberg
Maurice Friedberg began his career at IU Bloomington in September 1966 as professor (with tenure) in the Department of Slavic and East European Languages and Cultures. He was appointed to the Graduate School faculty (1967) and to the Russian East European Institute as director (1966-1975). He resigned from IU in 1975 to chair the Department of Slavic Languages and Literatures at the University of Illinois, Urbana-Champaign. He retired from teaching in 2000.
Friedberg is a specialist in the interaction of literature and society in Russia and is best known for his study of Soviet literary censorship and the Communist Party's efforts to harness and direct the ideological potential of non-Soviet writing published in the USSR.
Friedberg's work has been published in ten languages. Chinese translations have appeared in Beijing for some years; Russian ones began to be printed only after the collapse of the Soviet state. He was a Fulbright Lecturer in Israel (1965-1966), received two Guggenheim Fellowships in Slavic Literature (1970, 1981), and was a Senior Fellow of the National Endowment for the Humanities (1990-1991). He directed seminars for the National Endowment for the Humanities, the Social Science Research Council, and the American Council of Learned Societies. He has served for many years on the editorial boards of several scholarly journals and on the boards of various professional organizations. In May 1988, he was invited to the White House to brief President Ronald Reagan on problems of Soviet culture prior to the President's state visit to Moscow. He was elected to full membership in the Russian Academy of the Humanities. In 2002, he received the Distinguished Contribution Award from the American Association for the Advancement of Slavic Studies.
Friedberg passed away on August 15, 2014 in Washington, DC.