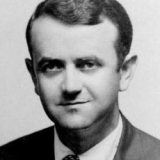 Awards
Guggenheim Fellow (1964)
About Miguel Enguídanos
Miguel Enguídanos began his academic career at IU Bloomington in 1964 as professor (with tenure) of Spanish and Portuguese. He was appointed to the Graduate School faculty in 1965. He resigned in 1984 after 20 years at IU to accept a position at Vanderbilt University. He was the Centennial Professor of Spanish in the Department of Spanish and Portuguese from 1984 to 1986.
Enguídanos was awarded a John Simon Guggenheim Fellowship in Spanish and Portuguese Literature in 1964 and took a leave of absence from IU for the 1965-1966 academic year to do his research. The Miguel Enguídanos Award for Excellence in Research was endowed in 1993 in memory of Enguídanos. The award is presented annually to the best research paper written by a graduate student in the Department of Spanish and Portuguese at Vanderbilt University.
Enguídanos passed away on April 27, 1986.