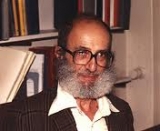 Awards
Guggenheim Fellow (1947)
About Paul R. Halmos
Paul Halmos was hired as a professor of mathematics, with tenure, in the College of Arts and Sciences at IU Bloomington in 1969. He retired from IU in 1984 and was named distinguished professor emeritus of mathematics in 1985. He received both a bachelor's degree (1934, mathematics and philosophy) and a Ph.D. (1938, mathematics) from the University of Illinois at Urbana-Champaign. He then worked as an assistant to John von Neumann at the Institute for Advanced Study (1939-1942), taught at Syracuse University, the University of Chicago (1946-1960), the University of Michigan (1961-1967), and the University of Hawaii (1967-68) before joining the faculty at IU. Halmos took a leave of absence from IU to teach and do research at the University of California at Santa Barbara (1976-1978). He spent his final teaching years at Santa Clara University, retiring in 1996.
Halmos was a visiting professor at the University of Montevideo in Uruguay (1951-1952), the University of Washington (1959), the University of Miami (1965-1966), and a lecturer at Trinity College Dublin (1967-1968). He was awarded the John Simon Guggenheim Fellowship in Mathematics (1947), the Chauvenet Prize from the Mathematical Association of America (MAA, 1948), the Steele Prize for Mathematical Exposition from the American Mathematical Society (1983), the Distinguished Teacher Award (1993) and the Yueh-Gin Gung and Dr. Charles Y. Hu Award for Distinguished Service to Mathematics (2000) both from the MAA.
Halmos passed away on October 2, 2006.