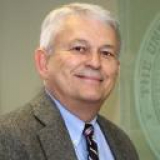 Awards
Guggenheim Fellow (1995)
About R. David Edmunds
R. David Edmunds began his career at IU Bloomington as professor of history with tenure in 1989. He was appointed to the Graduate School faculty in 1990 and resigned to accept a position at the University of Texas at Dallas in 1999. He received a B.A. from Millikin University in 1961, an M.A. from Illinois State University in 1966, and a Ph.D. from the University of Oklahoma in 1972. He taught social science at Bloomington High School (1961-1967) and was an assistant professor of history at the University of Wyoming (1971-1974). He taught at Texas Christian University as assistant professor, associate professor, and full professor (1975-1989). He has taught at the University of Texas at Dallas since 1988 and served as the acting director of the D'Arcy McNickle Center for the History of the American Indian at the Newberry Library (1990-1991). He is currently the Anne and Chester Watson Chair in History Professor Emeritus at the University of Texas at Dallas.
Edmunds is a historian of Native American people and the American West. He is the author/editor of ten books and over one hundred essays, articles, and other shorter publications. His work has been awarded the Francis Parkman Prize, the Ohioana Prize for Biography, and the Alfred Heggoy Prize of the French Colonial Historical Society. He has served as a production consultant for over a dozen films or documentaries produced for PBS, the History Channel, and commercial television. He has held advisory positions with numerous museums and federal agencies, and has served as an advisor to the Smithsonian Institution, The Ford Foundation, the Social Science Research Council, the National Park Service, the National Endowment for the Humanities, and the Newberry Library.
Edmunds was the past-president of both the American Society of Ethnohistory (2002-2003) and the Western History Association (2006-2007). He has received the John Simon Guggenheim Fellowship in U.S. History (1995), the Award of Merit from the American Indian Historians Association (1998), and the Jeff Dykes Award for contributions to Western History from Westerners International (2007).