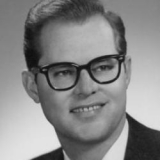 Awards
Guggenheim Fellow (1961)
About Ralph T. Daniel
Ralph Daniel obtained a B.M. (1940), M.M. (1942), and B.A. (1947) from North Texas State University and an M.A. (1949) and Ph.D. (1955) from Harvard University. He served four years in the U.S. Army and was on the faculty at North Texas State University for one year. He was hired at IU Bloomington in the School of Music as an assistant professor of musicology in 1949. He was appointed to the Graduate School faculty in 1950, promoted from assistant to associate professor in 1959, and from associate to professor in 1962. In 1963, he became the director of graduate studies in music, a position he held until his retirement. He retired on December 31, 1979 after 30 years at IU with the title of professor emeritus of music.
In the Memorial Resolution for Emeritus Professor Daniel (Bloomington Faculty Council, April 2, 1985), William B. Christ wrote of Daniel in his role as director of graduate studies in music, "That period of some sixteen years was to see the School of Music blossom, its faculty and enrollment burgeon, and its graduate programs multiply and expand. With his skilled leadership, diligence, and dedication during this period of unprecedented growth, standards of scholarly excellence were forged and maintained, an important factor contributing to the enviable reputation enjoyed by the School of Music today."
Daniel was awarded a John Simon Guggenheim Memorial Foundation Fellowship in music research in 1961. He took a leave of absence from IU for the 1961-1962 academic year to do research on the origin and early development of the church anthem in England. During time not devoted to teaching or administration duties, he wrote books, essays, and articles and was a member of and served on the national councils of the International Musicology Society, the American Musicological Society, and the College Music Society.
Daniel passed away at his home on January 27, 1985.