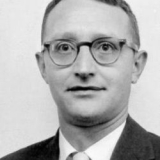 Awards
Guggenheim Fellow (1959)
About Ray L. Heffner, Jr.
Ray Heffner obtained his B.A., M.A., and Ph.D. degrees from Yale University after serving in the U.S. Navy during World War II. He began his academic career at IU Bloomington in the Department of English as an instructor in 1954, then assistant professor in 1956, and associate professor in 1960. He was named assistant dean of the faculties in 1959 and associate dean of the faculties in 1962. He resigned his position as associate dean of the faculties and associate professor of English at IU in 1963. He had accepted the position of vice president for instruction and dean of faculties at the University of Iowa, which he held for only a year before returning to IU in a similar position. He became the 13th president of Brown University on July 1, 1966. Chancellor Wells was the principal visiting speaker at his inauguration in October of that same year. Heffner resigned as president of Brown University in 1969 and returned to the University of Iowa as provost and professor until his retirement in 1996 as emeritus professor of English.
Heffner served three years as president of Brown University. When he announced his resignation, he was quoted as saying, "If there is tension in society it is going to be maximized in the university," adding that the tension is "greatest in the office of the president." He was also quoted as saying, "I have simply reached the conclusion that I do not enjoy being a university president."
Heffner was awarded a John Simon Guggenheim Fellowship in English Literature in 1959 and did his research on Shakespearean tragedies at the British Museum in London.
Heffner passed away in Coralville, Iowa, on November, 28, 2012, at the age of 87.