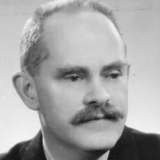 Awards
Guggenheim Fellow (1959)
About Richard A. Moody
Richard Moody spent the entirety of his academic career on the faculty at IU Bloomington. He was first hired as assistant professor of speech and theatre in 1942, appointed to the Graduate School faculty in 1949, and promoted to associate professor in 1951 and full professor in 1956. He was named director of the Indiana University Theatre in 1958, a position he held until 1970. He retired at the end of 1978 as professor emeritus of theatre and drama. Moody received both a bachelor and a master degree from Drake University (Des Moines, Iowa) and a doctorate from Cornell University (1942).
Moody, who specialized in early American theatre, supervised the Brown County Playhouse, the Showboat Majestic, and the Indiana Theatre Company. He taught actor, Kevin Kline, and playwright and lyricist, Howard Ashman. He wrote five books and articles for professional journals and encyclopedias. After he retired from teaching, he was a founding member of the Theatre Communications Group and the American Society for Theatre Research and was active in the American Educational Theatre Association and the Speech Association of America. He was awarded a Guggenheim Fellowship in Theatre Arts in 1959, a National Endowment for the Humanities Fellowship for University Teachers for 1973-1974, and the inaugural award from the American Theater Association for a significant work in historical research.
Moody passed away in Bloomington, Indiana, on March 29, 1996.