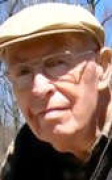 Awards
Guggenheim Fellow (1965)
About Robert E. Quirk
Robert Quirk joined the faculty at IU Bloomington as an instructor in history in 1950. He was appointed an assistant professor in 1955, an associate professor in 1960, and a full professor in 1963. He was chair of the Latin American Studies Program from 1963 to 1965 and from 1977 to 1980. He retired in 1983 as professor emeritus of history. Quirk earned a bachelor's degree in history and journalism with highest honors from Wayne State University (Detroit) in 1946 and an M.A. and a Ph.D. in Latin American history from Harvard University in 1948 and 1951, respectively. He was an instructor at Wayne State University (1946-1947) and at Mexico City College (1950) before beginning his career at IU.
Quirk was a visiting professor at the University of Texas (1960), Columbia University (1965), and Hamburg University (1974-1975) as well as editor of The Hispanic American Historical Review (1965-1970) and the American Historical Review (1976). He won the Frederick Jackson Turner Prize of the Organization of American Historians (1962) for An Affair of Honor: Woodrow Wilson and the Occupation of Veracruz and the John G. Shea Prize of the Catholic Historical Association (1973) for The Mexican Revolution and the Catholic Church. He received a Woodbury Lowery Traveling Fellowship during his time at Harvard for his research on the Mexican Revolution, two Social Science Research Council grants (1952, 1961-1962 to complete research and writing of a book on the church in Mexico), a John Simon Guggenheim Memorial Foundation Fellowship in Iberian and Latin American History (1965), and a U.S. Fulbright-Hays Lectureship at the University of Hamburg (1974-1975).
Quirk passed away on May 23, 2009, in Bloomington, Indiana.