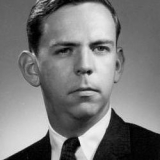 Awards
Guggenheim Fellow (1965)
About Rowland Lee Collins
Rowland Collins graduated cum laude from Princeton University with an A.B. in 1956, an M.A. from Stanford University in 1959, and a Ph.D. from Stanford University in 1961. Prior to finishing his thesis, he began his academic career as an instructor in the Department of English at IU Bloomington. He became an assistant professor in 1963, was appointed to the Graduate School faculty in 1964, and was promoted from assistant to associate professor in 1965. He resigned at the end of the 1966-1967 academic year to accept a position at the University of Rochester, where he became chairman designate in 1970 and then chairman from 1972 to 1981. At the time of his death, he was professor of English at the University of Rochester.
The New York Times referred to Collins in his obituary as "an authority on Old English literature and the Victorian period." He received fellowships from the Woodrow Wilson Foundation in 1956 and 1959 and the John Simon Guggenheim Foundation in 1965 in medieval literature. When the University of Rochester's Department of English merged its "core collection" with the medieval studies collection, the result was the Koller-Collins Graduate English Center, which was later changed to the Koller-Collins Center for English Studies in Collins's and Kathrine Koller's honor (both English faculty members).
Collins passed away at the age of 50 on May 17, 1985 in Rochester, New York.