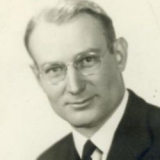 Awards
Guggenheim Fellow (1958)
About Roy W. Battenhouse
Roy W. Battenhouse began his career at IU in 1950 as an associate professor of English in the Department of English. He was promoted to full professor in 1956. After spending more than 30 years at IU, he retired as a professor emeritus at the age of 70 in 1982. Battenhouse received his undergraduate degree from Albion College in 1933 and both his B.D. and Ph.D. from Yale University in 1936 and 1938 respectively. He was also ordained in 1942 as an Episcopal priest.
Throughout his career, Battenhouse was interested in the relationship between literature and Christian teaching. He wrote books and articles, was a visiting professor and lectured at numerous institutions around the world, served on editorial boards, and served in various positions in professional organizations.
Battenhouse was awarded a Guggenheim Fellowship in English literature in 1958 and also a Ford Foundation Fellowship for advanced study. He received honorary doctorates from Ripon College (Ripon, WI) in 1964 and St. Michael's College (Burlington, VT) in 1974. The Roy W. Battenhouse Fellowship is available within the Department of English in the College of Arts and Sciences to support IU graduate students interested in Shakespeare and Renaissance studies.
Battenhouse passed away in Bloomington on February 17, 1995.