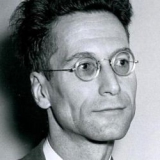 Awards
Guggenheim Fellow (1953)
About Rudolf B. Gottfried
Rudolf Gottfried received both a B.A. (1931) and a Ph.D. (1935) from Yale University. During his time at Yale, he was elected Phi Beta Kappa (1930), was a recipient of Lewis Porter Fellowships in the Yale Graduate School (1931-1934), and was awarded the Willis Tew Prize for the ranking student in English (1932). His academic career began as an instructor of English at the University of Wisconsin (1934-1937). He was then a research associate at the University of Cincinnati (1937-1939) before moving to the Department of English at IU Bloomington to be an instructor (1939-1945), assistant professor (1945-1948), associate professor (1948-1956), and full professor (1956-1975). He retired from IU as a professor emeritus of English in 1975.
Gottfried received many honors during his career: an American Council of Learned Societies travel grant in 1947 and a Guggenheim Fellowship in English Literature in 1953 to study English historical writing of the Renaissance at Oxford University (1952-1953).
Gottfried passed away on May 19, 1986.