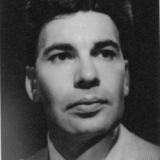 Awards
Guggenheim Fellow (1974)
About Ulrich W. Weisstein
Ulrich Weisstein began his career at IU Bloomington as assistant professor of English and comparative literature in the College of Arts and Sciences in 1959. He was appointed to the faculty of the Graduate School in 1960, promoted from assistant to associate professor in 1962, and from associate professor to professor in 1966. His title was changed to professor of comparative literature and German in 1967. He served as a visiting professor of comparative literature at the University of Iowa in 1969, received the John Simon Guggenheim Memorial Foundation Fellowship in German and Scandinavian Literature in 1974, and was a visiting professor at Stanford University in 1979. He was also the director of the Hamburg Overseas Study Program from 1981 to 1982, and given the additional title of chairperson of the Department of Comparative Literature from 1985 to 1989. Weisstein retired from IU in 1990 as professor emeritus of comparative literature and Germanic studies.
Weisstein received a M.A. in literary theory (1953) and a Ph.D. in comparative literature (1954) from IU. He was one of the first to do so from the IU Comparative Literature Program. He taught German and art history at Lehigh University (1957-1959) before returning to IU in 1959.
Claus Clüver, emeritus professor of comparative literature and Germanic studies at IU, described Weisstein as, "one of the nationally and internationally most prominent members of our department, recognized not only as one of the first theoreticians of the field but also as a guiding voice in the development of what he called 'Comparative Arts.'" Weisstein was an author, editor, and translator, who wrote over 400 publications during his lifetime. In honor of Weisstein, the Ulrich Weisstein Friends of Music Scholarship in Voice was established at IU, to be awarded to a Jacobs School of Music undergraduate or graduate student voice major.
Weisstein passed away in Graz, Austria, on October 10, 2014.