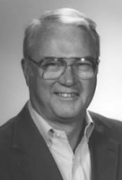 Awards
Bicentennial Medal (2020)
Guggenheim Fellow (1964)
About Walter T. K. Nugent
Walter Nugent was hired at IU Bloomington as assistant professor of history in the College of Arts and Sciences in 1963, promoted from assistant to associate professor in 1964, and from associate to full professor in 1968. He was appointed associate dean of the College of Arts and Sciences and to the faculty of the Graduate School in 1967, was associate dean for overseas studies, research and advanced studies from 1972 to 1975, associate dean for overseas study, international programs from 1975 to 1976, and was chairman of the Department of History from 1974 to 1977. He resigned from IU in 1984 to accept the Takes Professorship in American History at the University of Notre Dame, a position he held until 2000 when he retired and was named emeritus professor of history.
Nugent obtained an A.B. from St. Benedict's College (Kansas) in 1954, an M.A. in European history from Georgetown University in 1956, and a Ph.D. in American history from the University of Chicago in 1961. He was awarded a John Simon Guggenheim Memorial Foundation Fellowship in 1964 to study social aspects of American monetary policy in the post-Civil War period for the 1964-1965 academic year, a Fulbright senior lectureship in American History (1870-1920) at the Hebrew University of Jerusalem in 1978-1979, and three National Endowment for the Humanities Fellowships in 1979, 1983-1984, and 1985-1986.
Nugent has written and edited books, journal articles, and essays; he has served on society and association boards in administrative roles as well as being a member. His latest book is titled, Color Coded: Party Politics in the American West, 1950-2016 (University of Oklahoma Press, 2018).
In 2020, Nugent was presented the Bicentennial Medal for his distinguished service to Indiana University.