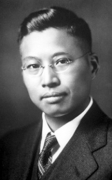 Awards
Honorary Degree (1971)

D.S.
Doctor of Science
Commencement
Indianapolis, Indiana
Presenter: Joseph Lee Sutton
About Ko Kuei Chen
Ko Kuei Chen was born in 1898 in a small village near Shanghai. Upon graduating in 1918 from Tsing Hua College in Peking (then a preparatory school for those intending to pursue higher education), Dr. Chen moved to the United States. There he attained B.S. ('20) and Ph.D. ('23) degrees from the University of Wisconsin-Madison, and an M.D. ('27) degree from Johns Hopkins University. He would later receive honorary Sc.D. degrees from the Philadelphia College of Pharmacy and Science ('46) and the University of Wisconsin-Madison ('52).
From 1929 to 1964, Dr. Chen was Director of Pharmacologic Research for Eli Lilly and Company and also served, from 1937 to 1968, as a Professor of Pharmacology in the Indiana University School of Medicine. Well known to more than a generation of Medical School students for his lectures on digitalis and the treatment of congestive heart failure, Dr. Chen gained eminence in his adopted country and internationally. One of his earliest contributions was the isolation of the drug ephedrine and its introduction into clinical medicine in 1924. There followed such life-giving discoveries as the treatment of cyanide poisoning, the structure activity relations of cardiac glycosides, the hepatic toxicity of certain alkaloids, and the therapeutic use of analgesic drugs, including methadone, now widely used in the treatment of morphine addicts.
During World War II, Dr. Chen was involved in research on anti-malarial drugs for the Office of Scientific Research and Development and also served on a commission to review drugs to combat motion sickness. Dr. Chen has been a special consultant to the National Institutes of Health (1960-1965); a member of the U.S. National Committee for the International Union of Physiological Sciences (1955-1963) and an official delegate to its First and Second General Assemblies; and, the U.S. representative to the International Council on Pharmacology (1959-1962).
A leading figure in his professional societies, he has served as Treasurer, President-elect, President, and Historian of the American Society for Experimental Pharmacology and Therapy, and as Chairman of the Executive Board of the Federation of American Societies for Experimental Biology. Among the many honors which Dr. Chen has received are: first prize of the China Foundation for the Promotion of Education and Culture, a Certificate of Merit from the American Medical Association, the J. W. Sturmer Award from the Philadelphia College of Pharmacy and Science, invitations to deliver five different endowed lectures, and citations from Indiana Technical College, the University of Wisconsin Medical Alumni, and Johns Hopkins University. Dr. Chen is a Fellow of the American Medical Association, the American College of Physicians, and the American Association for the Advancement of Science. He is a member of Phi Beta Kappa, Sigma Xi, Sigma Sigma, Phi Sigma, Phi Beta Pi, the American Physiological Society, the American Pharmaceutical Association, the German Pharmacological Society, the Society for Experimental Biology and Medicine, Academia Sinica, and several local and regional professional societies.
He has authored more than 300 scientific publications, a monograph on ephedrine, and The History of the American Society of Pharmacology and Experimental Therapeutics, and he was editor of The History of Pharmacology in the United States.
After Dr. Chen's retirement from Eli Lilly and Company in 1968, he and his wife moved to San Francisco where they lived until his death in 1988.