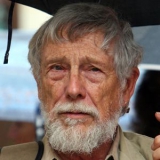 Awards
Pulitzer Prize (1975)

Poetry
About Gary Snyder
Gary Snyder teaches literature and wilderness thought at the University of California at Davis and lives with his family on San Juan Ridge in the Sierra foothills. He was born on May 8, 1930 in San Francisco, CA, and raised in Washington and Oregon on small farms. When he was 15 he climbed Mount St. Helens. He joined the Mazamas Climbing Club and the Wilderness Society, and climbed many of the northwest's major snow peaks.
Snyder received a degree in literature and anthropology from Reed College in 1951. After briefly studying linguistics at Indiana University, he completed three years of graduate work in Asian languages at the University of California at Berkeley. He also worked on the docks in San Francisco, read Buddhist philosophy and wrote poetry.
During the 1950's Snyder became involved with the San Francisco Beat movement. After Snyder and Jack Kerouac climbed Matterhorn Peak in the northern Sierra Nevada, Kerouac used Snyder as the model for Japhy Ryder, the itinerant mountain-climbing poet of Dharma Bums (1958), a man who took his Zen practice beyond the confines of formal study.
In 1956 Snyder moved to Japan. For 12 years he studied Rinzai Zen Buddhism, worked as a researcher and translator of Zen texts, and traveled throughout Asia, including a six month sojourn in India where he met the Dalai Lama in 1962. He also worked for 9 months in the engine room of a tanker visiting various ports in the Pacific and the Persian Gulf.
In 1969 Snyder returned to the United States and settled on the mountain farmstead in the northern Sierra foothills where he lives today.
Snyder has published 16 books of poetry and prose. "Turtle Island" received a Pulitzer Prize for poetry in 1975.