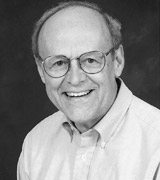 Awards
Titled Professor (2005)

Chancellor's Professor Emeritus of Religious Studies
About Stephen J. Stein
Professor Stein is a historian of religions in America. His principal research focuses on eighteenth-century religious thought, on dissenting religious communities throughout American history, and on the development of religious diversity in America. He is the editor of three volumes in the Yale University Press edition of The Works of Jonathan Edwards, all of which document Edwards' investment in biblical exegesis. He is the author of the definitive history of the Shakers in America. His research interests include the role of apocalyptic in American history, the function of "scriptures" in sectarian communities, and the implications of the religion clauses of the First Amendment.
Professor Stein holds the Ph.D. (1970) from Yale University in Religious Studies. He joined the IU faculty in 1970. He served as Director of American Studies from 1981-1984 and as Chair of Religious Studies from 1990-1998. He was an Adjunct Professor of American History and also of American Studies. Stein is co-editor of a publication series on "Religion in North America" at Indiana University Press as well as co-editor of the journal, Religion and American Culture.
Stein held research fellowships from the National Endowment for the Humanities in 1974 and 1985. He received an Indiana University Distinguished Teaching Award in 1981 and the Distinguished Faculty Award of the College of Arts and Sciences in 1991. In 1994 he was elected President of the American Society of Church History. In 1995 he received the Tracy M. Sonneborn Award at Indiana University, Bloomington, and was named Chancellor's Professor of Religious Studies.