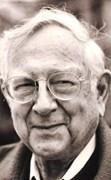 Awards
Honorary Degree (2003)

D.S.
Doctor of Science
Commencement
Bloomington, Indiana
Presenter: Adam W. Herbert
About Max M. Marsh
His colleagues describe him as "a person of rare vision and extraordinary insight," a scientist with an "incisive understanding" of chemical science far beyond his own research areas, "a great mentor," and a pioneer in computational chemistry.
Recognizing his brilliance and accomplishments as a scientist, Max Marsh's students and colleagues have often called him Dr. Marsh. In fact, his course work was interrupted by World War II and the necessity to support his family during a time of national economic adversity. After earning his Bachelor of Science degree in chemistry with high honors from Indiana University in 1947, he accepted a research job at Eli Lilly and Company instead of proceeding on to graduate studies.
But as a young chemist at Eli Lilly and Company, he began pushing at the frontier of theoretical chemistry and rational drug design and rose to the position of research advisor, held by only the most gifted and visionary scientists at Lilly. Over the past half century he has continued to explore computational chemistry - most recently he has been an enthusiastic proponent of a chemical informatics degree program at IU - and has been an ardent supporter of his alma mater.
The importance of Marsh's close and enduring relationship with IU would be difficult to quantify, even for an analytical chemist, but his faculty colleagues say that it is enormous. "He is simply a scientific treasure - a true statesperson for Indiana University," says David E. Clemmer, Robert and Marjorie Mann Chair and chair of the Department of Chemistry at Indiana University Bloomington. "Max's contributions to science and impact within IU and our department go far beyond the ordinary. He has had an extraordinarily substantive career and has influenced many other scientists, including a number of our faculty." When Marsh, an Indianapolis native, began working at Eli Lilly and Company, analytical chemistry was a very different discipline than it is today. Analyses were largely based on "wet" methods; the field of applying electronic instrumentation for chemical measurement was still in its infancy. The job of "discovering" new drugs was the work of organic chemists or biochemists, while analytical chemists were often assigned tasks such as testing for impurities, characterizing compounds, or calibrating dosages.
"In those days, the trial and error method of making and testing compounds was the only road to drug discovery," says Robert B. Hermann, professor of chemistry at Indiana University-Purdue University Indianapolis and a former colleague of Marsh's at Eli Lilly and Company. "One can just imagine some of the chemists' resistance to the change to structure-based design that Max advocated ," he adds. "But he made it happen, because he was held in such high regard among the scientists at Lilly." Marsh had been at Lilly only a short time when he published an article assessing the chemical methods that would be appropriate for analyzing pharmaceuticals. His article, "Pharmaceuticals and Natural Drugs," which appeared in Analytical Chemistry in 1950, became a classic in the field.
In those early years he worked and published papers on new methods of analyzing pharmaceuticals and on electronic instrumentation and automated approaches for chemical measurement. He was named head of Lilly's analytical research department in 1956 and, in a promotion that put him very near the top of Lilly's scientific career path, was named research advisor in 1966. Marsh's ascension to top positions in both research and administration at Lilly was a rare accomplishment.
By the mid-1960s, Marsh had decided that the future of drug development would depend on quantum chemistry and structure-based drug design. "Max Marsh was a pioneer," Hermann says. "He was the first in the entire pharmaceutical industry to initiate a sustainable program for the use of rational drug design and theoretical chemistry." Instead of waiting to discover a beneficial drug, scientists could now work to design a specific drug to attack a specific problem. "Max's vision about CADD (computer-aided drug design) has proven entirely correct," says Donald Boyd, Research Professor of Chemistry at IUPUI and also a former colleague of Marsh's at Lilly. "It took the rest of the world about 20 years to catch up to where he knew pharmaceutical research would evolve."
While CADD may, among Marsh's many contributions to medical science, be what Marsh is most closely associated with, colleagues say he has myriad distinct interests, is quick to see how advances in one field might lead to further advances in another field, and has a genius for bringing people together. "At scientific seminars on almost any subject - whether in chemistry, biology, or pharmaceuticals - Max could ask the most thought-provoking, insightful, and useful questions," says Boyd. "He has an incisive understanding that his fellow scientists admire and value."
Marsh's more than 40 published articles have focused on such distinct topics as theoretical and computational chemistry, organic chemistry and natural products, recombinant technologies, medicinal chemistry, protein structure and analytical chemistry, and biochemistry. "It is highly unusual for persons of comparable positions in industry to publish as much as he did, to be sought after as frequently as a conference and seminar speaker, and to be selected for service on editorial boards," says Milos Novotny, distinguished professor and Lilly Chemistry Alumni Chair at the Indiana University Bloomington Department of Chemistry. "Max has covered an enormous range in his research career."
Throughout this extraordinary career, Marsh has maintained close ties with the Indiana University Bloomington Department of Chemistry, sharing his knowledge and ideas with faculty members and mentoring graduate students. In 1971, he was named an adjunct industrial professor of the department. In 1982, the department held a one-day symposium in his honor. After retiring from Lilly in 1986, he moved to Bloomington and accepted a long-term appointment as a visiting research scientist. In 1990, he was named an adjunct professor of chemistry. "At the same time, Max accepted an ever-expanding role in other aspects of the university, where his widsom and judgment were of tremendous importance," says Gary M. Hieftje, distinguished professor and Robert and Marjorie Mann Chair in Chemistry at Indiana University Bloomington. "However, he still found it possible to spend nearly as many hours in the chemistry department as do even most junior faculty members." Marsh's service to IU includes serving on the Board of Directors for the College of Arts and Sciences Alumni Association, holding the offices of vice president in 1988 and president in 1989. He currently serves on the Dean's Advisory Board for the College of Arts and Sciences.
"We like to say that in this land of opportunity there is no limit to what you can accomplish with your abilities and hard work," says Kumble R. Subbaswamy, dean of the College of Arts and Sciences. "Max Marsh personifies this American motto. Few people with doctoral degrees have accomplished what he accomplished in the pharmaceutical research world with only a bachelor's degree." Marsh now has his Doctor of Science. It was bestowed not by a committee of faculty advisors, but by an entire community of faculty colleagues.