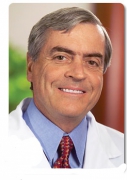 Awards
Bicentennial Medal (2019)
Honorary Degree (2003)

D.S.
Doctor of Science
Commencement
Kokomo, Indiana
Presenter: Adam W. Herbert
About Michael Mirro
Michael J. Mirro is a physician, clinical professor, researcher, alumnus, and member of the IU Board of Trustees. Mirro earned his bachelor's degree from Loyola University, Chicago, and M.D. from Indiana University School of Medicine. He completed his postgraduate education at the IU Medical Center.
Mirro's work has been primarily that of a research scientist (basic and clinical) and that of a physician (clinical cardiac electrophysiologist). He has held several academic appointments, beginning at University of Iowa Hospitals and Clinics as instructor of medicine (1979-1980) and then as assistant professor of medicine (1980-1982). He returned to Indiana University School of Medicine, where he served as clinical assistant professor of medicine (1982-1992), clinical associate professor of medicine (1992-1997), and then clinical professor of medicine (1998 - 2019). From 1981 to 2014 he practiced cardiology in private practice at Fort Wayne Cardiology. During these years he also conducted clinical research in Fort Wayne at Parkview Hospital Randallia, Parkview Regional Medical Center, and the Parkview Research Center, as well as the Wabash County Hospital in Wabash, IN. Mirro has served on the board of trustees of the American College of Cardiology (ACC) from 2003-2009, and co-chair of the ACC Advocacy Committee from 2002-2004.
Beyond his professional activities, Mirro has been involved in many civic organizations. He has served as chairman and committee member on the board of trustees for the Fort Wayne Medical Society (1990-2003), the advisory board of Big Brothers/Big Sisters (1990-1995), member of the YMCA's Medical Advisory Committee (1991-1995), and Metro Board of Trustees (1993-1995). He has also served on the Northeast Indiana Regional Corporate Council (1998-2003) and the Northeast Indiana Innovative Center (chairman, 1999-2002; board member and Executive Committee member, 2016 - present).
Mirro was appointed to the IU Board of Trustees in 2014 by Governor Mike Pence and then reappointed by Governor Eric Holcomb in 2017. Mirro currently serves as the chair of the board. He also serves on the Indiana University School of Informatics Dean's Advisory Council (1999 - present). He has served on the IU Hospitals Board (1994-1995), the IU School of Medicine Fort Wayne Community Advisory Board (Chairman 1993 - present), and the IU Research Technology Center Presidents Cabinet (1999-2002).
He has received many honors and awards including having received the National Institutes of Health (NIH) Individual Fellowship Award (1978-1979), Sagamore of the Wabash (1999), Honorary Doctorate of Science from IU (2003), Order of William Harvey from the ACC (2003), and the Distinguished Hoosier Award (2005).
Mirro received the IU Bicentennial Medal in September 2019 in recognition of his distinguished service as member and chair of the IU Board of Trustees.