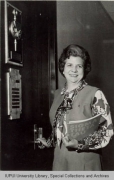 Awards
Honorary Degree (1990)

D.S.
Doctor of Science
Commencement
Indianapolis, Indiana
Presenter: Thomas Ehrlich
About Nell Jackson Watts
Nell Jackson Watts, Executive Officer of Sigma Theta Tau International Honor Society of Nursing, has devoted her career to enhancing the image and discipline of nursing. An internationally acclaimed pioneer in nursing education, she has guided Sigma Theta Tau to a preeminent position in the worldwide nursing community. Under her leadership, the organization has served as a catalyst for the growth and development of nursing research and scholarship.
Mrs. Watts was born in Detroit, Michigan, and received the Diploma from the Good Samaritan Hospital School of Nursing in 1948. She continued her education at Indiana University, receiving the Bachelor of Science in Nursing Education in 1953, and the Master of Science in Nursing Administration in 1957. Early in her career she served in several professional and faculty positions, including clinical instructor at Louisville General Hospital and head nurse at Louisville Veterans' Hospital. At the Indiana University School of Nursing, she was assistant professor of nursing from 1959 to 1962, and coordinator of Continuing Education in Nursing in 1963- 1964. She began her broader administrative career as Executive Director of the Indiana for Nursing in 1967, and in 1974 became Executive Officer of Sigma Theta Tau International Honor Society of Nursing.
Mrs. Watts is committed to the promotion and support of knowledge development in nursing through research and education. She has expanded the number of chapters of Sigma Theta Tau from 56 to 263, and built the organization into a central and significant force for the advancement of research. She initiated the comprehensive Research Depository for nurses, the only facility of its kind in the field. Building a foundation for the future, she has developed an international network of nursing scholars, a capital research fund, and an innovative series of international research conferences. The Center for Nursing Scholarship and the International Nursing Library of Sigma Theta Tau were also developed through her inspiration and direction.
Mrs. Watts has served admirably in numerous professional organizations and is widely recognized for her contributions to the progress of the nursing profession. She was named Indiana Nurse of the Year by the Allstate Foundation and the Indiana League for Nursing in 1974, and received the Distinguished Alumni Award of the Indiana University School of Nursing in 1975.