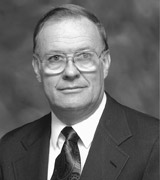 Awards
School of Medicine Glenn W. Irwin, Jr. Distinguished Faculty Award (1999)
About Richard E. Lindseth
Dr. Lindseth received his B.A. degree from Dartmouth College and his M.D. degree from Harvard Medical School. His training in Orthopaedic Surgery was performed at the Upstate Medical Center, State University of New York, Syracuse, New York. In 1967, he joined the faculty at Indiana University School of Medicine, Department of Orthopaedic Surgery as an Assistant Professor. In 1969, he became Director of Pediatric Orthopaedic Surgery at Riley Children's Hospital and Director of the Myelomeningocele Clinic. He was promoted to Professor of Orthopaedic Surgery in 1976. He became Chairman of the Orthopaedic Department in 1995. He received the Glenn W. Irwin, Jr. Award for Distinguished Faculty Service in 1999. He was named the George J. Garceau Professor of Pediatric Orthopaedics in 2000.
Dr. Lindseth has been a member of many national and international organizations. These include the American Academy of Orthopaedic Surgery, American Academy of Pediatrics, American College of Surgeons, American Orthopaedic Association, Pediatric Orthopaedic Society of North America (President 1986-1987), Scoliosis Research Society, European Pediatric Orthopaedic Society, International Society of Orthopaedic Surgery and Traumatology, and the Spina Bifida Association of America (Chairman of the Professional Advisory Committee 1987).
Dr. Lindseth's research effort has been in the orthopaedic care of children paralyzed by myelomeningocele. He has developed many different surgical procedures and management protocols that have been accepted around the world. Orthopaedic surgeons from the United States and Europe have come to Indianapolis to learn these procedures.