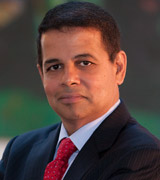 Awards
Bicentennial Medal (2019)
Titled Professor (2009)

Jack R. Wentworth Professor of Operations and Decision Technologies
Fulbright Award (2005)

Croatia
About Munirpallam A. Venkataramanan
M.A. Venkataramanan is the vice provost for finance and strategy and the Jack R. Wentworth Professor of Operations and Decision Technologies in the Kelley School of Business, Indiana University Bloomington. He earned a B.E. in mechanical engineering from University of Madras, a M.S. in business computing science and Ph.D. in business analysis and research from Texas A&M University. His research interests include Enterprise Resource Planning, RFID, network modeling, artificial intelligence, high speed computing and supply chain models.
Venkataramanan organized and managed the computer information systems (CIS) major in the Kelley School of Business from 1989 to 1995. He then played a key role in developing the business process management major for the Kelley School while serving as chair of the Operations and Decision Technology Department for six years from 1997-2003. He is one of the principle investigators in ERP research and teaching initiative at Indiana University. He has more than twenty-five research articles published in a variety of journals including Operations Research, Decision Sciences, Annals of Operations Research, Naval Research Logistics, Computers and OR, EJOR, and Mathematical Modeling.
Venkataramanan received the IU Bicentennial Medal in August 2019 in recognition of his distinguished service as vice provost for finance and strategy for Indiana University Bloomington.