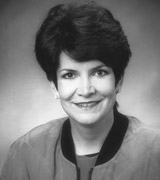 Awards
School of Medicine Distinguished Alumni Award (1993)
About Deborah I. Allen
Debbie Allen was raised in Indiana. She received her undergraduate degree from Purdue University in 1972, attended Indiana University School of Medicine graduating with an M.D. degree in 1976, and took a three-year residency in Family Medicine at Methodist Hospital in Indianapolis, Indiana from 1976-1979.
While in training she developed a keen interest in the education of residents and medical students and following her residency took a position as Associate Director of Family Practice Education in the Methodist Hospital Family Practice Residency Program. In 1979, she began teaching medical students in various programs for the medical school and was given a volunteer faculty appointment of Clinical Assistant Professor in 1982.
Dr. Allen became a full-time faculty member in July 1986 and was appointed as Director of Pre-Doctoral Education replacing Dr. Otis R. Bowen. She developed and instituted the Current Issues in Medicine Lecture series of the Junior Year Medical Students, and as the curriculum changed at the medical school, provided a "bridge" for junior and senior medical students in the form of a senior year selective.
In January 1989, she became the first female chair in any department at the IU School of Medicine. She, along with Dr. Debbie Freund, was responsible for developing the Otis R. Bowen Research Center which is housed in the Department of Family Medicine. The focus of this center is preventive health, rural, and health care services research.
Dr. Allen is well known nationally and is a past-president of the American Board of Family Practice. She has been very active in the American Academy of Family Physicians and the Society of Teachers of Family Medicine. She is past-president of the Indiana Academy of Family Physicians and has served as a Delegate to the Indiana State Medical Association as well as to the American Medical Association.
She stepped down as chair in August 1998 so that she could devote more time and energy to the Bowen Research Center. In 1998, Allen was awarded with a Sagamore of the Wabash distinction by Governor O'Bannon for her contributions toward the development of family medicine in Indiana. She continues to serve the medical school as director of the Bowen Research Center and as a practitioner and director of the office of the IU Medical Group at One America Tower.