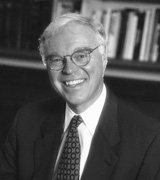 Awards
Bicentennial Medal (2020)
John W. Ryan Award for Distinguished Contributions to International Programs and Studies (2015)
About Alfred C. Aman
Professor Alfred C. Aman earned an AB with distinction in Political Science from the University of Rochester in 1967 and his JD from the University of Chicago Law School in 1970. He served for nearly 15 years on faculty at the Cornell Law School and was director of its International Legal Studies program from 1988-1991 before joining IU as dean of the Maurer School of Law from 1991-2002. Professor Aman is the Roscoe C. O'Byrne Professor of Law at the IU Maurer School of Law.
Professor Aman's research has made exceptional contributions to international programs and engagement. "On the cutting edge of research focused on globalization and transnationalism in the law, he is one of the first scholars who placed legal education and the legal profession in a global context, researching international engagement almost twenty years before this approach became the norm." He is the author of five books, Administrative Law in a Global Era (Cornell University Press, 1992) a pioneering analysis of globalization and law developed out of research conducted during the 1980s, and The Democracy Deficit: Taming Globalization Through Law Reform (NYU Press, 2004). His scholarship includes numerous other articles on administrative, regulatory, and deregulatory law, especially as it relates to the global economy.
As faculty editor of the Indiana Journal of Global Legal Studies, a journal he helped create more than two decades ago, "Professor Aman has hosted symposia that have touched on the most important issues facing global governance, and the interdisciplinary intellectual conversations between invited participants have been captured in special symposium editions of the journal." Aman attracted world-class faculty during his deanship, he re-shaped the school's Master in Laws program growing it to be one of the largest in the nation, founded a Doctor of Juridical Science program designed for international law graduates who already hold a master's degree in law, and he built the school's infrastructure for enhanced international programs and collaborations. "Professor Aman's work laid the foundation for a robust international research collaboration program between law schools, individual faculty and students that exists at the school today." Aman created partnerships with faculty members and established student exchange programs. He was instrumental in developing a formal relationship with the Université Panthéon-Assas, Paris II, where he taught for more than ten years, and he developed an endowed professorship and lecture series with the University of Cambridge.
In 2020, Aman received Indiana University's Bicentennial Medal, in recognition of his distinguished contributions to the university.