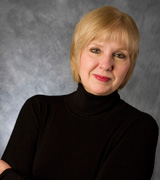 Awards
Bicentennial Medal (2019)
President's Medal for Excellence (2012)

Ceremony Honoring Recipient
Presenter: Michael A. McRobbie
About Karen Hanson
Karen Hanson's principal research interests are in philosophy of mind, ethics, aesthetics, and American philosophy. Professor Hanson has twice been elected to the Executive Committee of the Central Division of the American Philosophical Association, and she currently serves there and as an elected member of the APA National Board of Officers.
From 1993 to 1997, she served as the APA Delegate to the American Council of Learned Societies and as a member of the ACLS Executive Committee. She has been an associate editor of the Journal of Social Philosophy, a member of the editorial board of American Philosophical Quarterly, and a Trustee for the American Society for Aesthetics. Her current editorial board memberships include Notre Dame Philosophical Reviews and Cognitio, and she is an Officer of the Board of the John Dewey Foundation and a member of both the advisory and the editorial boards of the Peirce Edition Project. She has also won numerous campus and all-university teaching awards, along with a Lilly Fellowship and a number of research grants.
Professor Hanson received a B.A., summa cum laude, in Philosophy and Mathematics from the University of Minnesota (1970) and a Ph.D. (and A.M.), in Philosophy, from Harvard University (1980). She served as member of the Philosophy Department at IU since 1976 to 2012, she was also an adjunct professor of Comparative Literature, of American Studies, and of Gender Studies. She chaired the IU Department of Philosophy from 1997-2002, served as Dean of the Hutton Honors College and as Executive Vice President and Provost at Indiana University. She currently serves as Senior Vice President for Academic Affairs and Provost at the University of Minnesota.