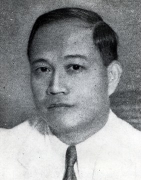 Awards
Distinguished Alumni Service Award (1978)
About Antonio de las Alas
Antonio de las Alas received a Bachelor of Laws from Indiana University and a Master of Laws from Yale University. A native of the Philippines, he returned home and began a remarkable career which affected every level of business, government and international affairs.
Antonio served as senator, member of the Cabinet, chairman of the National Economic Council and the National Development Company, and various other capacities, under several different presidents. As an expert on government organization, he shared his talents as a member of the Monetary Board of the Central Bank, as officer and director of multifaceted corporations, and as president of the Chamber of Commerce. Antonio's intense interest in sports led him to the presidency of the Philippine Amateur Athletic Federation and membership on the National Olympic Committee.
In the group of IU alumni who have been leaders of their country, Antonio stands tall, his life marked by remarkable competence and foresight, uncompromising honesty, and indefatigable effort.