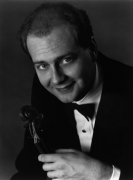 Awards
Grammy Award (1996)

Best Chamber Music Performance
Performance: Corigliano: String Quartet
About William Preucil
William Preucil was appointed concertmaster of the Cleveland Orchestra in 1994. Prior to joining the orchestra, Mr. Preucil performed for seven seasons the first violinist of the Grammy Award winning Cleveland Quartet. As a member of the quartet, Preucil performed more than 100 concerts each year in the world's major musical capitals and recorded for Telarc International the complete cycle of Beethoven's seventeen string quartets, as well as a variety of chamber works by Haydn, Mozart, Schubert, and Brahms. Previously Mr. Preucil served for seven years as concertmaster of the Atlanta Symphony, after earlier holding the same position with the orchestras of Utah and Nashville.
During his tenure in Atlanta, Preucil appeared with the orchestra as soloist in 70 performances of 15 different concertos. Composer Stephen Paulus's Violin Concerto was written for, and dedicated to Mr. Preucil, who premiered it and then recorded it for New World Records with the Atlanta Symphony and conductor Robert Shaw. He has also made solo appearances with the symphony orchestras of Minnesota, Detroit, Rochester, and Hong Kong.
Mr. Preucil regularly performs at the most prestigious North American chamber music festivals, including those of Seattle, Sitka, Sarasota, and Santa Fe, as well as at International festivals in Switzerland, France, and Germany. He also serves as concertmaster and violin soloist of the Mainly Mozart Festival Orchestra in San Diego and continues to perform as a member of the Lanier Trio, whose recording of the complete Dvorak piano trios was honored as one of TIME magazine's top 10 compact discs for 1993. The Lanier Trio has also recorded the trios of Mendelssohn and Paulus for Gasparo Records.
Actively involved as an educator, Mr. Preucil currently teaches at the Cleveland Institute of Music and is a member of the artistic advisory board for the Interlochen Center for the Arts in Michigan. He previously held positions as professor of music at the Eastman School of Music and distinguished lecturer in music at the University of Georgia.
Mr. Preucil began studying violin at the age of five with his mother, Doris Preucil, a pioneer In Suzuki violin instruction in the United States. At the age of 16, he graduated with honors from the Interlochen Arts Academy and entered Indiana University to study with Josef Gingold. He was awarded a prestigious performer's certificate at Indiana University and also studied with Zino Francescatti and Gyorgy Sebok.