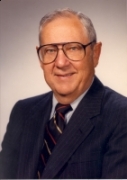 Awards
Z.G. Clevenger Award (1991)
Distinguished Alumni Service Award (1990)
Kelley School of Business Academy of Alumni Fellows (1975)
About Clarence W. Long
Clarence W. Long's relationship with Indiana University began the day he entered college and continued for more than 50 years. While a student, he engaged in a broad range of activities, graduating from the School of Business prepared to become a certified public accountant.
As a loyal alumnus, Long was appointed an IU trustee and served three distinguished terms. He was highly involved in IU's fiscal operations, and chaired the trustee committee that was instrumental in improving communication and rapport between the administration and the faculty. He was a leader in the University's extensive building and renovation programs during the 1980s, insisting on the highest standards of architectural design, aesthetics, and construction.
Long's career centered in Indianapolis, where he became responsible for the rapid expansion of the largest international accounting firm practicing in Indiana. His operating philosophy was one of work, perseverance, high quality effort, and active community involvement. He enthusiastically volunteered his time for youth, education, the arts, and the business community.