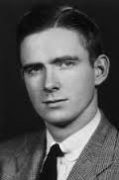 Awards
The Media School Distinguished Alumni Award (2013)
Distinguished Alumni Service Award (1983)
About David B. Richardson
David Bacon Richardson was known for his abiding interest in people and their ideas, his critical analysis of complex issues and his near-legendary skills as a raconteur, and a reputation as an energetic practitioner of accurate, fair and thorough news reporting.
Richardson was editor of the Indiana Daily student and a member of the Theta Chi Fraternity. After receiving the A.B. in Journalism in 1940, he began his career with the New York Herald Tribune but soon became a soldier-correspondent, covering the Southwest Pacific and China-Burma-Indiana war theaters for Bank magazine. His energy and desire for facts often plunged him into danger and hardship, and he was awarded six battle stars and the Legion of Merit by the U.S. Army and the Valor Medal by the National Headliners Club.
For eleven years, Richardson was a foreign correspondent for Time magazine, and roamed the world studying, examining, thinking, and writing. From 1956 until his retirement, he was associated with U.S. News & World Report, making in-depth studies of critical issues, establishing overseas bureaus, and interviewing virtually all the world leaders of the mid-twentieth century. He also developed a network of domestic news bureaus and wrote extensively-researched articles on matters of national interest.