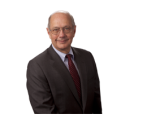 Awards
Distinguished Alumni Service Award (2004)
College of Arts and Sciences Distinguished Alumni Award (1980)
Stahr Senior Award (1966)
About David R. Frick
David Frick concentrates on a corporate practice at Faegre Baker Daniels. He first joined Faegre Baker Daniels in 1972 and served as Managing Partner from 1987 to 1992, guiding the firm's growth in Indiana.
Before returning to Faegre Baker Daniels, David retired as Executive Vice President and Chief Legal and Administrative Officer for Indianapolis-based WellPoint Inc., the nation's largest health insurance company. He was responsible for managing the various support and administrative functions of the company, including its mergers and acquisitions. Prior to joining WellPoint in 1995, David served on its board of directors. David was deputy mayor of Indianapolis from 1977 to 1982. He played a key role in the redevelopment of downtown Indianapolis and was the chief negotiator to keep the Indiana Pacers in town in 1983 and bring the Indianapolis Colts to the city in 1984.
David serves on numerous boards of directors, including the National Bank of Indianapolis, Artistic Media Partners, Inc., and Indiana Pacers Basketball Corp. Foundation. He also serves on the Boards of Directors of the Indiana and Indianapolis Chamber of Commerce, as well as several other civic and cultural organizations. He is chairman of the Indiana Stadium and Convention Building Authority, which is responsible for construction of the new 65,000-seat stadium and expansion of the Indiana Convention Center. Two Governors of Indiana have honored him with the Sagamore of the Wabash Award. In addition, he has received numerous honors for his service to the community, including the Charles L. Whistler Award, the Michael A. Carroll Award and the Thomas W. Moses Award.
Mr. Frick graduated from Indiana University with a Bachelor of Arts degree with high honors and received his Doctor of Jurisprudence degree from Harvard Law School with honors.