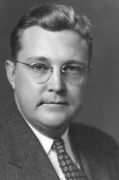 Awards
Distinguished Alumni Service Award (1981)
About Dillon D. Geiger
Dillon Donald Geiger personified the American dream of achievement through ability and effort. Though his education and medical career were centered in the place of his birth, his interests ranged far beyond one geographical location.
Geiger was a respected specialist in otolaryngology, giving unstintingly of himself to each patient, delivering his diagnosis with warm compassion. He was actively involved with serving IU; as a member of the Board of Trustees, he had a part in the development of the School of Medicine to its present position as a leading teaching and research center. He was an interested member of the University's Athletic Committee, generating enthusiasm for the teams, and was an active member of the Medical Alumni Association, even accepting the responsibility of its presidency.
In public service also, Geiger devoted himself. He was the chairman of the Indiana Toll Road Commission, which guided the construction of the first major interstate highway across the northern corridor of our state; a project that remains a model for efficiency, financial integrity, and dedicated citizen participation. He and his wife Louise were generous benefactors to IU, assuring the future support of continuing excellence in IU programs.