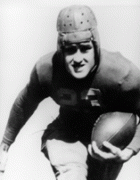 Awards
Distinguished Alumni Service Award (1993)
IUB Athletics Hall of Fame (1986)
Z.G. Clevenger Award (1982)
About Don A. Veller
Don Veller attended Purdue as a freshman before transferring to Indiana University. At Indiana, he was a three-year starter at halfback and defensive safety. In 1934, he gained national fame for returning a punt 82 yards for a touchdown to beat Purdue. In 1935, he played all but two minutes of his senior season. He was chosen the Indiana MVP and played in the 1935 East-West Shrine Game, where one of his teammates was Michigan center and future U.S. President Gerald Ford.
Veller was hired as FSU's first full-time head football coach in 1948, one year after the school turned co-educational and took up the sport. Veller quickly established FSU as a small-college power, leading the Seminoles to their first bowl game (1949 Cigar Bowl) and their first undefeated season (8-0 in 1950). Veller coached FSU's first All-American (Hugh Adams, 1948), oversaw the building of Campbell Stadium (1950) and awarded FSU's first football scholarships (1952). He rang up a 31-12-1 record and a .716 winning percentage that is second only to Bowden (.795) among the eight football coaches in FSU history.
Veller was renowned for his emphasis on defense and his insistence on good behavior. Coaching teams composed largely of World War II veterans, he forbade his players from smoking or swearing, and he stopped practices whenever anyone cussed - to make the offender run laps around the goalposts. Veller was also an admitted worrier, who had the tag "Doleful Don." Before games, he would lie on a couch for hours staring at the ceiling. During games, he paced the sideline nervously. After a game, he was unable to sleep.
Veller retired from football after five seasons at FSU. But "Dr. Don" - he earned his Ph.D. in the summers while coaching football - went on to teach in the FSU physical-education department for 30 years. He taught courses that led to a minor in coaching - and his first graduate was current FSU President T.K. Wetherell. Veller coached the FSU men's golf team for 18 years over three stints. He mentored such future PGA Tour players as Hubert Green, Paul Azinger, Jeff Sluman and Kenny Knox. Veller had played golf only occasionally before he became the FSU golf coach at age 41, and yet through furious practice he soon went from shooting in the 100s to regularly breaking 80. He also served as the golf columnist for the Tallahassee Democrat for nearly 45 years.