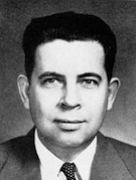 Awards
Distinguished Alumni Service Award (1960)
Maurer School of Law Academy of Law Alumni Fellows
About Earl W. Kintner
Earl W. Kintner was a chairman of the Federal Trade Commission in the Eisenhower Administration and a longtime senior partner in the Washington law firm of Arent, Fox, Kintner, Plotkin & Kahn. He chaired the commission from 1959 to 1961, during which he urged the industry to regulate itself, but also enforced anti-trust policies. In his tenure, the FTC issued a record number of complaints and orders for false advertising and monopolistic practices.
An Indiana native, Kintner attended DePauw University and Indiana University, graduating in 1936 and 1938 respectively. After law school, he practiced law and served as a prosecuting attorney in Princeton, IN. During the WWII years, Kintner joined the U.S. Navy and was appointed as the Deputy United States Commissioner to the United Nations War Crimes Commission in 1944. He was discharged from the Navy in 1948 and soon joined the FTC's staff as a trial lawyer. Kintner worked as an advisor and general counsel before he became the chairman.
After his time at the FTC, Kintner joined Arent, Fox, Kintner, Plotkin & Kahn as a senior partner. At the firm, he established and directed its antitrust practice. Kintner retired in December 1990 and then served as counsel to the firm. In addition, he was the author or co-author of 7 antitrust and trade regulation primers, 11 volumes on Federal antitrust legislative history and 9 volumes of a treatise on Federal antitrust law.