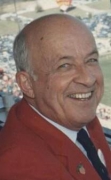 Awards
Distinguished Alumni Service Award (2002)
About Edgar F. Kettler
Edgar F. Kettler was President of Fort Wayne Storage Co., Inc. agent Allied Van Lines. His father, Alfred W. Kettler, was a Trustee of Purdue University for 18 years. Kettler attended Carlton College in Northfield, Minnesota, for one and a half years before joining the Army Air Corp. He served three years in the service, was attached to the 8th Air Force in England, and was honorably discharged as a 1st Lieutenant.
Kettler attended Indiana University from 1945-1948 and graduated with a BS in business. He was a member of Phi Gamma Delta and of the Business Fraternity, Delta Sigma Pi. He was former President of the IU Allen County Alumni Association, and a Life Member of IU's Alumni Association and was a founding member of IU's Football 12th Man Club. He served two separate terms on the Executive Council of the University's Alumni Association. Kettler was president of the National IU Alumni Association. He served on the Cabinet for the Campaign for Indiana. Kettler was appointed by the governor to the IU Board of Trustees in 1986 and served the three year term. In 1987, Kettler was awarded the Ralph E. Broyles Medal by the IU Alumni Association of Indiana University in Fort Wayne. Kettler served as President of the Indiana-Purdue Foundation at Fort Wayne and on the IPFW Community Advisory Council.
In 1948, Kettler married the former Mary Kay Burgman. They met on the Bloomington campus where she was affiliated with Alpha Chi Omega.