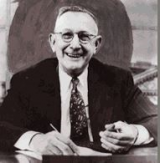 Awards
Distinguished Alumni Service Award (1968)
About Eugene J. Cadou, Sr.
Eugene Jepson Cadou was known as a master viewer and reporter of the political scene. For many years, he was devoted to the world of deadlines and bylines, to observing, analyzing, and reporting the news of the state of Indiana. As an unchallenged political writer, he never wavered in his devotion to good government, and never compromised with those who were willing to betray it.
Cadou won virtually every award in Hoosier journalism, reaching the apex of his career with an election to the Indiana Journalism Hall of Fame. His ties with IU are a constant throughout his varied endeavors; from student days, when he served as editor of the Indiana Daily Student; through his many years as reporter, news service editor, press service bureau chief; and finally, as a mentor for young journalists.