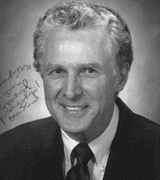 Awards
Distinguished Alumni Service Award (1988)
School of Education Distinguished Alumni Award (1986)
About H. Dean Evans
An insightful, innovative administrator, Harold Dean Evans transformed the Indiana State Department of Education to a vital division of state government, placing Indiana at the forefront of the school reform movement. He began his career in the public schools, moved forward with precision; studying for his doctorate at IU while strengthening his teaching, counseling and administrative skills.
Evans was named superintendent of the Washington Township Schools in Marion County, and built it into one of the best school districts in the nation. He moved from a leadership role at Lilly Endowment to the office of State Superintendent of Public Instruction, demonstrating his willingness to test his ideas on the firing line. He listened to learn from the practitioners, and instructed the state's leaders to make his visionary approach to education a reality.
Many awards from his peers, community, and state attest to the fact that Evans' distinguished service extended far beyond specific professional interests.