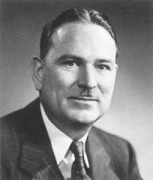 Awards
Honorary Degree (1966)

D.S.
Doctor of Science
Bloomington, Indiana
Presenter: Elvis Jacob Stahr, Jr.
Distinguished Alumni Service Award (1956)
About William Joseph Sparks
Dr. William J. ("Bill") Sparks was born on February 26, 1905, in Wilkinson, Indiana, dividing his time as an adolescent between schoolwork and farm work, but would rise to become a world-renowned authority on both rubber and petroleum chemistry.
Sparks received a Bachelor of Arts degree with distinction from Indiana University in 1926 and a Master of Arts degree in 1929. He went on to earn a Ph.D. in chemistry from the University of Illinois in 1936.
Sparks worked as a chemist for the Sherwin-Williams Co. as well as for E.I. Dupont de Nemours & Co., and in 1936, he joined the Standard Oil Development Company, (now Exxon Research and Engineering Company), as a research chemist. He also worked briefly as a Principal Chemist with the U.S. Department of Agriculture.
By all accounts an inventor as well as a chemist, in 1937, Sparks and colleague R.M. Thomas invented the now-famous butyl rubber, which they made by copolymerizing isobutylene with small proportions of butadiene or isoprene. Spark's creative genius led to countless patents on fuels, gasoline additives, propellants, encapsulated oxidants, asphalt additives, and food-wrapping films.
Sparks is remembered for his persistence and leadership in the efforts of aligning the education of the coming scientific generation and an awakening of social consciousness. He served on the Chemical Advisory Committee of Rutgers University and on the Science Development Council of Rensselaer Polytechnic Institute. He was also President of the American Chemical Society and chairman of the National Research Council's Division of Chemistry and Technology. As President of the ACS, he pushed the Committee on Chemistry and Public Affairs to bring to the government's attention the ways in which scientific innovation can foster solutions to current global problems.
He also served as National Chairman of the Scientific Research Society of America and as Chairman the Armed Forces Chemical Association's Committee on Chemical and Biological Warfare. He was an active Member of the National Academy of Engineering's Project Committee, as well as the National Research Council's Division of Engineering and Industrial Research and the Office of International Relations. He was an advisor to the Department of Agriculture and the Department of State as well.
Sparks was awarded the Priestly Medal in 1965 and the Charles Goodyear Medal in 1966. Additionally, he was the recipient of the Gold Medal of the American Institute of Chemists, and the Perkin Medal of the American Section of the Society of Chemical Industry. He was elected to the National Academy of Engineering in 1967, and was awarded honorary doctoral degrees by Indiana University and
Michigan Technological University. He was also the recipient of the Distinguished Alumni Service Award from IU. He and his butyl rubber co-inventor are the namesakes of the ACS Rubber Division's Sparks-Thomas Award.
Dr. Sparks died October 23, 1976, in his home in Coral Gables, Florida.