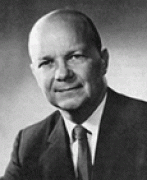 Awards
Distinguished Alumni Service Award (1981)
School of Dentistry Distinguished Alumni Award (1978)
About Harold M. Fullmer
Harold Milton Fullmer was an outstanding scientist and a recognized leader in the field of dental research. He received his bachelor of arts and doctorate of dental surgery from Indiana University and began his life of teaching and research at Loyola University of the South, and Georgetown University. He then moved to the University of Alabama and combined professorships in pathology and dentistry with demanding administrative responsibilities as Associate Dean of the School of Dentistry and Director of the Institute of Dental Research.
For almost two decades, Dr. Fullmer was principal investigator at the National Institute of Dental Research, furthering significantly the knowledge upon which the practice of dentistry is based, and doing important original research on human connective tissue. He was well known throughout the world of dentistry for his research and articles in national and international scientific journals and in textbooks. He received recognition from prestigious scientific honorarias, presided over the American and the International Association for Dental Research, and chaired the dental division of the American Association for the Advancement of Science.
As a teach and a scientist, Dr. Fullmer exhibited an inquiring spirit and breadth of knowledge and though which have kindled interest and assured advancement in his sphere of learning.