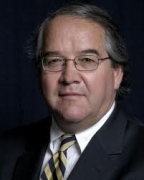 Awards
Bicentennial Medal (2019)
Distinguished Alumni Service Award (1995)
Z.G. Clevenger Award (1994)
IUB Athletics Hall of Fame (1982)
About Harry L. Gonso
Harry Lee Gonso is an attorney, IU Board of Trustees member, and civic leader. Gonso earned a B.S. in accounting from IUB and J.D. from the Maurer School of Law at IUB. He has been an extraordinarily effective leader throughout his life. An innovative football player, he led the IU team to a Big Ten title and a trip to the Rose Bowl in 1967 as quarterback. Gonso was an All-Big Ten, he holds career total offense record, and won two Balfour Awards. He was MVP selection and an academic All-American. He was a member of the Sigma Alpha Epsilon fraternity, and while a law student on the Bloomington campus, he was one of President Herman B Well's assistants.
A leading corporate lawyer in Indiana, Gonso is a partner in the firm of Ice Miller Donadio and Ryan, in Indianapolis, and is active on numerous boards and foundations. He is a charter member of the IU Athletic Hall of Fame and is a director of the IU Foundation. During his 18 years as a member of the IU Board of Trustees, Gonso brought tremendous insight and boundless energy to that body. The youngest person ever elected to the board, he was vice president for more than 10 years, was the chairman of the board's student affairs committee and a member of its architectural committee. In 2017, Gonso was reappointed to the Board by Governor Eric Holcomb.
Gonso accepted the chairmanship of the selection committee of the university, twice, to interview and recommend to the board a candidate for the university's presidency. His contribution to the university in this role was significant, as he guided the committee in its analysis of the responsibilities of the new leader and the qualifications of the candidates.
Gonso's commitment to Indiana extends beyond IU having served as senior counsel and chief of staff for Governor Mitch Daniels in 2005 and 2006. He served on the board of directors for the Community Hospital Foundation, Community Hospitals, the American College of Sports Medicine Foundation, the Skyline Club, and Municipal Recreation, Inc.
Gonso received the IU Bicentennial Medal in September 2019 in recognition of his distinguished service as a member of the IU Board of Trustees.