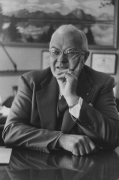 Awards
Distinguished Alumni Service Award (1960)
About Herschel D. Newsom
Born in 1905, Indiana University alumnus Herschel D. Newsom split his early professional life between chemistry and farming, eventually merging his interest in the two into a prominent career of national importance.
Newsom's agro-political career began in 1950, when he was elected Master of the National Grange. The Grange, also known as the Order of Patrons of Husbandry, is a fraternal organization in the United States that encourages families to band together to promote the economic and political well being of the community and agriculture. Founded in 1867, the Grange also works to promote education, service and legislation on behalf of American farm families. Still important today, it is the oldest agricultural advocacy group in the Unites States and is responsible for the establishment of free rural mail delivery.
Newsom was also elected President of the International Federation of Agricultural Producers in 1963, and also held several presidential appointments to various advisory positions, including the Committee on Trade Negotiations and the U.S. Tariff Commission.
In 1964, he founded the Grange Foundation. He passed away in 1970.