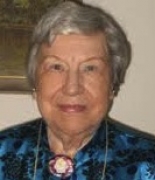 Awards
Distinguished Alumni Service Award (1996)
College of Arts and Sciences Distinguished Alumni Award (1994)
About Irene W. Meister-Armington
Irene W. Meister is a renowned expert in international trade, law, and economics. She studied for the AB and MA degrees at Indiana University, focusing on international studies, linguistics, and Islamic law, and then received a doctorate in economics, law, and diplomacy with highest honors from the Fletcher School of Law and Diplomacy.
She joined the American Paper Institute after working as a university teacher, a major oil company executive, and a research economist. For more than two decades she served API as senior vice president/international directing the overview of world markets and executive trade policy objectives. She was a member of President Regan's Export Council, advising the administration on a multitude of trade issues.
In retirement, she established her own counseling business dealing with global issues and international trade. Meiser has tirelessly advocated that American businesses, politicians, and the general public must be prepared for the coming internationalization of our economy. She has shared her experiences with thousands of young people during invited visits to many colleges and universities, including IU. Her message to students is that honesty pays in the long run, that ethical behavior is essential in business, and that these qualities are required for success in the modern world.