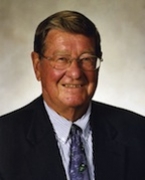 Awards
School of Education Distinguished Alumni Award (2012)
Distinguished Alumni Service Award (2006)
About James E. Wiegand
James E. Weigand, EdD'64, is an energetic ambassador for education -- science education, international education and continuing education -- and has truly impacted lives all over the world. Earning his doctorate from the School of Education in 1964, Weigand has spent his career as one of Indiana University's greatest advocates, serving as professor in the School of Education, as assistant to three Indiana University presidents and as dean of the School of Continuing Studies. Even in retirement, his contributions to the university continue, serving as special assistant to the Indiana University Foundation president, a role he maintained until 2012.
Through Weigand's extraordinary service to the field of education and Indiana University, he has touched thousands of lives all over the world -- preparing future elementary science educators, guiding master's degree candidates, supervising doctoral candidates and establishing Indiana University programs in Iran, Saudi Arabia, Mexico, South Africa, Malaysia and Thailand.
His accomplishments are widely acknowledged, having received numerous outstanding teaching awards from Indiana University, the National Science Teachers Association's Distinguished Achievement Award, the National Continuing Education Association's Distinguished Award and the Sagamore of the Wabash from Indiana Gov. Evan Bayh. In 2006, Weigand's legacy of service was recognized with Indiana University's Distinguished Alumni Service Award, the highest honor bestowed upon an alumnus of Indiana University.