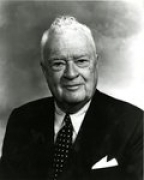 Awards
Distinguished Alumni Service Award (1975)
Maurer School of Law Academy of Law Alumni Fellows
About James F. Thornburg
The ideal of the citizen-lawyer that all who value the legal profession would make universal is personified in James Fletcher Thornburg. Born and reared in Winchester, Indiana he received his baccalaureate from DePauw University and his J.D. with high distinction from the Indiana University School of Law.
As a practitioner in South Bend, his brilliance and diligence earned him a devoted clientele and the respect of his peers. He was a leading expert on estate planning and administration and state and federal taxation and helped formulate both professional tools and governmental policies in his chosen specialties.
Recognizing the imperative of bringing the broadest legal services to clients, he played a leading role in a merger that spanned cities and formed the largest law firm in Indiana. His old and new partners demonstrated their esteem by naming their firm Barnes and Thornburg. He has taken time from family and law practice to organize and execute community projects that have enabled South Bend to retain its economic vigor.
As president and member of the State Board of examiners in the past, he raised the standards of the legal profession today. He initiated an innovative technique of legal instruction by arranging for his entire firm to join in teaching at Notre Dame law School. At a most critical time in the history of the Indiana University School of Law, his counsel as Chairman of the Board of Visitors helped the Dean and faculty adopt policies that stabilized and elevated the role of the School in the legal education of the state and nation.