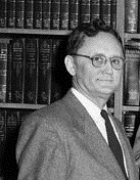 Awards
Distinguished Alumni Service Award (1976)
E. Ross Bartley Award (1973)
About Joseph A. Franklin, Sr.
Joseph Amos Franklin was born in 1904 in Madison County, Indiana. He graduated from Indiana University in 1927 with a Bachelor of Science in business and immediately joined the University staff as an accountant and auditor. His outstanding abilities and dedication were clear very early. In the 1930s and early 1940s he served as chief accountant and assistant comptroller, and then as assistant treasurer. Beginning in 2935, Franklin directed supervision and planning of all University construction. During the federally assisted building boom of the 1930s he managed almost singlehandedly the many details for the burst of construction that brought the University out of its small-campus stature and paved the way for great things to come.
One of the pioneers in negotiating contractual relationships between universities and the federal government, Joe Franklin helped to establish the principle of overhead payments that assure that federal programs bear their share of both direct and indirect costs. He was a founding member of the Committee on Governmental Relations, an organization of business officers of major universities, and helped to plan the early moves toward decentralization of the University business function.
In 1946, Joe Franklin was named treasurer of the University and in 1948 he received the additional title of vice president. The quarter of a century from 1946 to his retirement in 1971, after which he continued to serve as fiscal counsel to the president, spanned four presidencies. During that important period he was a key administrator in the growth and development of Indiana University. The annual academic operating budget, which he administered with acuity and vision, grew from $7.1 million to $112.9 million; the value of the University's physical plan increased from $14.5 million to $382.8 million; and acreage on eight campuses expanded from 864 acres to 2,346 acres. These figures reflect a parallel growth in the stature of Indiana University to which Franklin's foresight and broad perspective contributed in significant and enduring ways. He never saw the business function as an end in itself, but as a means to facilitating the work of the faculty and opportunities for students.
Recognition from his colleagues and contemporaries came in his election over the years to offices in state, regional, and national associations of business officers. A leader in civic affairs and worthy causes, Franklin was also a life member of the James Whitcomb Riley Memorial Association and represented the University on national and state organizations for the promotion of higher education and research. Among other honors, he received in 1973 the E. Ross Bartley Award for outstanding administrative service to Indiana University, and in 1976 the Distinguished Alumni Award.