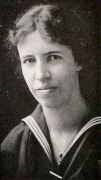 Awards
Distinguished Alumni Service Award (1975)
About Josephine K. Piercy
Indiana University alumnus Josephine Ketcham Piercy was born Sept. 27, 1895 in Indianapolis, the only child of Joseph William and Mary Ketcham Piercy. In 1918, she received her A.B. from Indiana University, and an A.M. from IU a year later.
In 1922, she received a second A.M., this time from Columbia University, and came back to Bloomington to begin what would become a long and esteemed career at IU as an English professor.
She was an Instructor from 1926-1940, an Assistant Professor from 1940-1950, an Associate Professor from 1950-1964, and in 1964, she became the first woman in the English Department to receive full Professor status, a position she would hold until her retirement in 1966.
While teaching, Piercy took time to earn her PhD in English, studying colonial literature at Yale University, and receiving her doctorate in 1937.
In addition to being a scholar and professor, Piercy was also an accomplished author. Her many books include Studies in Literary Types in Seventeenth-Century America (1939), Modern Writers at Work (1940), and the biographical study Anne Bradstreet (1966). She was well-connected to the writers and scholars of the day, as well, and many of her correspondences have been preserved in collections of letters from such luminaries as Willa Cather and Bertrand Russell.
Piercy's devotion to Indiana was not a singular occurance. Her family had planted firm roots in the state when, in 1811, her ancestor Colonel John Ketcham settling on the White River. Ketcham would become county judge in Jackson County, and following suit was a long line of Ketcham descendants to hold prominent positions in Indiana, including educators, reverends and journalists.
She is the namesake of the Josephine K. Piercy Award for Creative Writing, given annually by the Bloomington Chapter of the National Society of Arts and Letters.
A hooiser until the very end, Josephine K. Piercy passed away in Bloomington in 1995 at the age of 99.