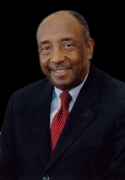 Awards
Distinguished Alumni Service Award (1977)
About Leroy Keith, Jr.
Leroy Keith Jr. served as the eighth President of Morehouse College in Atlanta, Georgia from 1987 to 1994. An alumnus of Moorehouse, Keith also studied at Indiana University, receiving a master of science degree and a doctorate in education and business administration.
During his time as President, Keith oversaw both financial and physical growth. The College's overall endowment increased, as did faculty salaries and student scholarships, construction was completed on the Nabrit-Mapp-McBay science building, as well as the Thomas Kilgore Jr. Campus Center and two dormitories, and Hope Hall was rebuilt.
Keith has also worked as Vice President for Policy and Planning at the University of Maryland System in Adelphi, Maryland, where he was responsible for coordinating the development of long-range academic, fiscal and facilities planning for the five-campus system.
He has also been the Associate Dean and Assistant Professor of Education and Urban Studies at Dartmouth College, and has worked professionally with the Maryland Higher Education Supplement Loan Authority, the College Trends Committee of the American Council on Education, the Keystone Group, and the Phoenix Series Fund of the Phoenix Mutual Life Insurance Company.
In 1975, he was appointed Chancellor of the Massachusetts Board of Higher Education, becoming the first African American to hold such a position within American higher education. He also served as a Trustee of the St. Andrews Episcopal School in Bethesda, Maryland.
For his extraordinary success and achievements, Keith has received numerous honors, awards, and distinctions, including the Resolution for Outstanding Achievement from the House of Representatives of the State of Tennessee, and was named one of 100 top Young Leaders in the American Academy by Change magazine and the American Council on Education. He also received the Distinguished Alumni Service Award from Indiana University.
Keith and his wife Anita have raised four daughters, Lori, Susan, Kelli, and Kimberly.