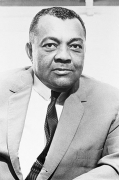 Awards
Distinguished Alumni Service Award (1981)
Kelley School of Business Academy of Alumni Fellows (1978)
About Milton Wilson
Milton Wilson was an outstanding American educator in business administration, and a model for other aspirants in the academy and in the business world. He graduated from Indiana University with a doctoral degree from the School of Business, highly motivated to achieve success, and guide students towards this as well.
Launching a career in accounting, teaching, and consulting, Milton planned and implemented a curriculum in business at Texas Southern University that transformed a small department into a fully accredited school of business, opening previously unavailable opportunities for black students. His record of confidence and determination brought him to the attention of Howard University, where he was hired as the dean of the School of Business and Public Administration, providing leadership in policy-making, curriculum design, and external contacts.
Milton was always willing to share the benefit of his experience, and earned a reputation as a valuable consultant to business, government, and education. His belief that the goal of a college education was to bring freedom and knowledge to individuals made him a wise and trusted advisor; an inspiration to generations of students, whom he challenged to achieve excellence.